Coworking in the Faroe Islands. Say what?
Chances are you have never heard of the Faroe Islands – not even for traveling, let alone for coworking. I get it, its not the typical destination for a digital nomad, and its perhaps for a good reason.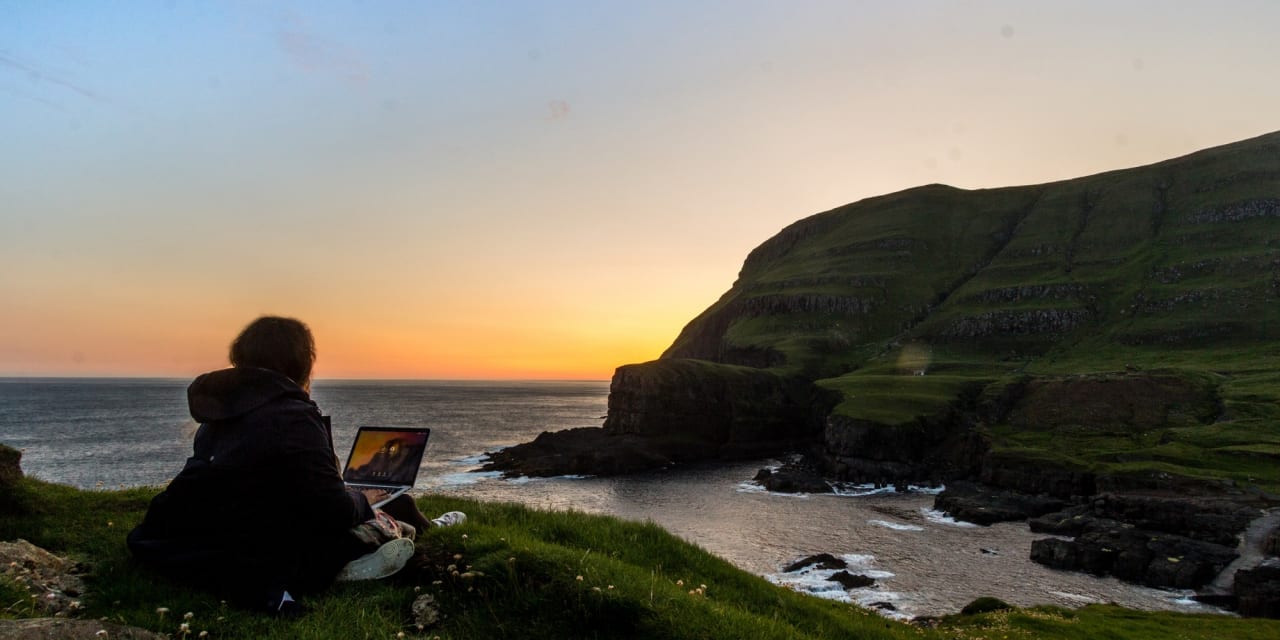 December 6, 2020
By Karla Cifuentes
Chances are you have never heard of the Faroe Islands – not even for traveling, let alone for coworking. I get it, its not the typical destination for a digital nomad, and its perhaps for a good reason. It is quite remote from the rest of the world, and it's also just opening up for nomads!

So if you haven't heard of it, please allow me to introduce it to you.


T H E B A S I C S | About the Faroe Islands
Faroe Islands is a group of self-governing islands that belong to the Kingdom of Denmark.
It is located between Northern Ireland, Norway and Iceland.
To travel between islands there are underwater tunnels, bridges, ferry and helicopter. (Some locals will travel from island to island for groceries shopping via helicopter! How is that for a ride?)


T H E A M A Z I N G | Why visit the Faroes
So what makes the Faroe Islands such an amazing destination? Why should you travel all that way?The answer is really simple and I'll let these next pictures speak for themselves.

In all honesty, these images don't even do justice to the breathtaking nature of these islands. Its landscapes and nature are beyond anything I've ever seen. Its raw, its wild, untamed and pristine. Each landscape is so unique, and some places truly feel like humans haven't even been around.

One of this special places and perhaps my favorite was the coastline of Suderoy. I took a speedboat along the cliff. The trip started from the town of Sumba and went up along the Eggjarnar cliffs. There was some fog when we started, but as we moved along, the fog started to disappear only to reveal the most dramatic landscape I've ever seen.

Rugged cliffs and peaks as high as the famous Beinisvord, which is 470 meters high. With the soundtrack of literally thousands of seabirds chirping away! From seagulls to the most adorable birds ever, the mystical Atlantic Puffins! I can honestly say that the beauty of this place was so pristine that if a dragon came out flying from the cliffs I wouldn't have been surprised. To me, this place was a mix between a set for Lords of the Rings and Jurassic Park! A truly magical land!

The Faroe Islands is not a destination of comfort, nor is it a destination of museums or restaurants and nightlife. Faroe Islands is YOU and Mother Earth! Hills, grass, cliffs, bays, fog, wind, birds and lots of sheep!


So what makes it an interesting destination for nomads?
Truth be told, this destination may not be as "developed and adapted" for digital nomads YET, when it comes to long term housing options or a huge community of nomads, as more established destinations as Chang Mai or Bali are. However, if you are a nature lover, and need full concentration this place might be the perfect fit for you.

Without distractions and fully surrounded by astonishing nature, Inspiration will surely be available to you! The Faroe Islands has this sense of remoteness and isolation that we need at times to laser focus on what matters most! This is the perfect place to write the book you been wishing of, re-evaluate your business strategy, launch your website, or venture into a whole a new business!

Also, since its weather can be very rough, working and travel here is ideal, that way you will make the most of each day, regardless of the weather conditions. If its too rough you can stay indoors and work, or even go to their outdoor sports facilities to rock climb or play football! If the weather is better, you can use those windows for some exploration, one-one contact with nature or sightseeing of nearby towns. The point is everyday you will be able to make the most of it.

Lastly, but not least, the Faroese are some of the most friendly and caring people I've run across in my trips. Spending more time in the Faroes means you have more time to meet and connect with them. A great way to also learn and understand more about their culture and lifestyle – which is fascinating. I really found interesting their views on sustainability and their relationship to food – a controversial topic in the rest of the world, as whale hunting is part of their traditions and lifestyle. Same as the dangerous practice of hunting seabirds along the cliffs for food.

Working and traveling in the Faroe Islands will hopefully be something you hear about more often, as this beautiful islands continue embracing and welcoming the Digital Nomad revolution!