The beginning of my Westfjord story.
Kelp as an attraction.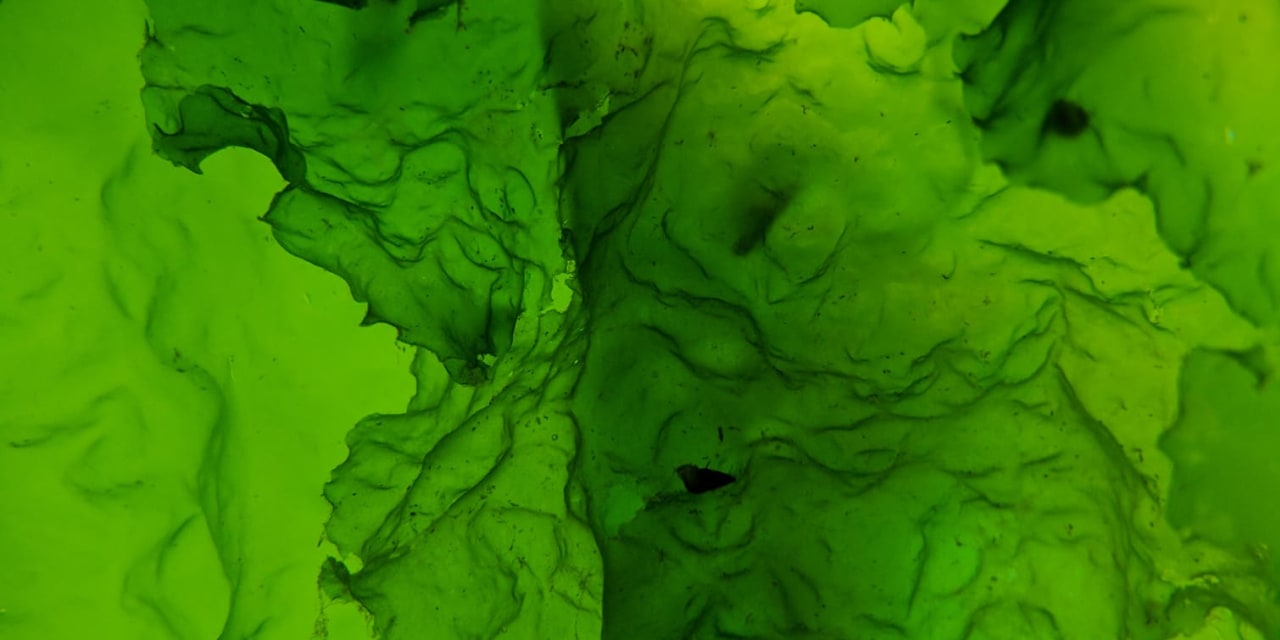 January 17, 2022
By Jillian Galloway
Living in the Westfjords is an engaging and exciting experience. Each day brings a new view from my window here on Silfurgata in the town of Isafjordur. Browns, greens, and brilliant blues are prevalent on the mountain slopes in autumn, while winter and early spring are characterized by green, stormy seas and a snowy greyscape tinted with pink or blue at dawn and dusk.
Sunset looking southwest across Alftafjordur towards Sudavik. November, 2021.
Dirt track in the hills east of Isafjordur. November, 2021.
Early dusk looking west from Flateyri. October, 2021.
Afternoon sun seen from Flateyri Harbour. October, 2021.
I am currently working as Hatchery Manager at EldeyAqua, a startup kelp farming initiative that was started in 2018. Our current goal is to develop lab-based hatchery techniques to control kelp reproduction by manipulating light, temperature, salinity, and nutrient conditions. By being able to control kelp maturation, in future we could become a "seed bank" of sorts for distributing ready-seeded kelp lines on demand to prospective kelp farmers in the Westfjords. This lab-based protocol has most recently been studied at the University of Galway, Japan, Maine, and in Nova Scotia. We are sifting through information from scientific literature, and regularly have engaging conversations with leading international algae researchers as we design and develop the necessary facilities here at EldeyAqua. Two of our top role models in the kelp field are Ocean Rainforest, a large-scale kelp farm that exports both dried and raw products and is located in the Faroe Islands, and Blue Evolution, an algae producer that works with local and indigenous people to sustainably manage and harvest both onshore and offshore farms based in Baja, California and Kodiak, Alaska.
Wooden pier near Holt beach and across the fjord from Flateyri. December, 2021.
Here in the Westfjords there is incredible potential for developing the kelp farming industry. At home for me, in the rapidly warming waters of Maine, kelp farming is seen as the way of the future. Lobster and cod fishing forms the social, economic, and cultural foundation of New England life. Yet, with climate change altering the ocean chemistry of the region, these organisms are moving northward, exiting major fishing zones. Lobster and fishing industries must look to a new climate-resilient aquaculture alternative - kelp. Kelp farming can be a sustainable mariculture industry of the future all over the world.
Fish drying and storage sheds near the kelp collection site in Isafjordur. January, 2022.
Fish drying near Isafjordur. January, 2022.
Trawler docked in Isafjordur harbour. October, 2021.
The coastal waters of Iceland are rich in nutrients, and have supported a thriving groundfish industry for centuries. Fish farming operations can be made more sustainable and eco-friendly if kelp is grown nearby. The farms produce large amounts of fish waste which is released into local ecosystems and waterways. Field studies, however, show that kelp can filter this waste and clean the local water column, allowing it to remain fresh for all types of aquaculture.
Kelp species visible from the surface at a low tide, Isafjordur collection site. Sugar kelp were collected here for the EldeyAqua lab. The species visible are Dulse, Bladderlock, Sugar kelp, and Purple Sea Moss. January, 2022.
Seaweeds of all types naturally flourish in the rocky Westfjords intertidal. Bladderlock (Alaria esculenta), Purple Laver (Porphyra umbilicalis), Purple Sea Moss (Chondrus crispus), Dulse (Palmaria palmata), and Sugar Kelp (Laminaria saccharina) are five common types that grow in rocky crevices or tide pools and are visible at low tide.
Storage shed pictured with kelp species in the foreground that could be farmed and are being grown in the EldeyAqua nursery. January, 2022.
Kelp has many varied uses, and is central to the climate change conversation. Being a photosynthetic organism, it absorbs significant levels of CO2 from the atmosphere. When grown at scale on farmed lines, kelp cleans local water bodies and allows marine ecosystems to thrive. Recent research in Sweden has examined kelp's potential as a highly efficient biochar fuel. Kelp bioplastics are being explored by various companies, as is kelp as a material in fashion and clothing design. Many companies in Maine, Alaska, and Norway dry and sell kelp as a salt substitute or powdered vitamin addition. Kelp is high in protein, so is also sold fermented or as a salad ingredient. The future of kelp is multifaceted, and has the potential to increase the sustainability of many industries. My hope and that of EldeyAqua is to bring this future innovation to the Westfjords and incorporate kelp into Iceland's relationship with the marine world.

-Jillian